What's another year? The 2016 Eurovision Song Contest, particularly its Grand Final, gave us something we have not seen in the era of semi-finals: a nail-biting, exciting finish. Credit for this largely goes to the latest iteration of the hybrid televote/jury system (arguably to its natural conclusion), where both components of the scoring system are worth equally as much.
Overall, most fans seem to agree that the Swedes did a marvelous job hosting this year's Contest. And while many have felt perhaps too much of our favourite light entertainment programme was being driven by a chap who managed only second-last in Malmo 1992, broadly speaking the changes brought in for Stockholm look rather good in the rear view mirror.
But enough about that. There are maths to be discussed!
Three winners
Congratulations once again to Jamala and Ukraine. 1944 scored the most points overall (534), after ranking second in both the jury (211) and televote (323) components. Her average score was 267 points, or a mean score of 6.5 points per eligible country (41). FYI the lowest average winning score in the era of the mega-sized Grand Final remains Azerbaijan's 2011 winner Running Scared, whose mean score was 5.26points. Most mega-final winners have a mean score between 6 and 7.
Congratulations also to Russia's Sergey Lazarev, whose 361 points in the televote nearly reached Italy's Il Volo's 366 televote score with Grande Amore in 2015. Though, to be fair, Il Volo's mean televote score (9.15 points) is still ahead of Sergey's (8.8). The highest televote score therefore remains Norwegian Alexander Rybak's 378 points for Fairytale: an average of 9.2 points.
And…congratulations also to Australia's Dami Im, whose 320 jury points were also in the top tier of all-time jury scores—and over 100 points clear of second place jury favourite, Ukraine. Last year Mans Zemerlow earned Sweden's record jury score of 363 points. However Mans' mean score (9.08) was significantly higher than Dami's  (mean 7.8).
Bottom of the Top; Bottoms of the Bottom
In the era of pan-European televoting, the basement of the Grand Final top 10 usually has been between 90 and 105 points. Taking into account that this year each entry got two complete sets of marks, we projected that threshold should have landed in the range of 180 to 210 this year. Belgium's Laura Testoro earned 181 points with What's The Pressure, an average score of 90.5 points. Nice.
We also anticipated (and hoped) that no grand finalists would get null points. And that was almost correct: whilst no entry earned no points at all, Czechia's Gabriela Gunčiková managed to earn zero in the pan-European televote – though her 41 jury points lifted her to 25th of 26 entries. Behind her was Germany's Jamie-Lee whose Ghost limped to a single jury vote (Georgia) and 10 televotes, including 8 from German speaking Switzerland and 2 from Austria, both places where Jamie-Lee's entry had made a minor impact on sales charts in the period prior to the Contest.
In 24th place (and 62 total points) were the UK's Joe & Jake, whose You're Not Alone earned a mere 8 televote points: 4 from Australia, 3 from Ireland and 1 from Malta. Fellow Anglosphere member Cyprus was entirely ungenerous towards the British lads. Rather.
Skew You
There were a few other entries too; we still have 20 other entries from the Grand Final, from which there's also a lot of interesting data. What is particularly striking are the entries that either juries loved but the public didn't, and vice versa. Many, rather surprisingly, ended up near the top of the scoreboard regardless.
Our King Skew™ is Michał Szpak from Poland. After receiving  only 7 jury votes from 41 juries, he managed 222 televote points—third in the televotes overall—to end up 8th with 229 total points. That's a jury/public vote differential of 215 points.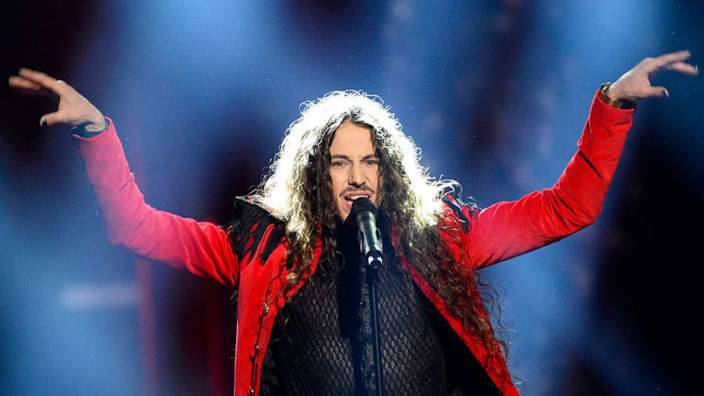 But someone actually had a bigger differential between televotes and jury votes: Russia. Indeed, the differential between Sergey's public vote (361) and jury vote (130) was 231 points. The difference here is qualitative, however. Many juries liked You are the Only One, whilst almost no juries liked Color of Your Life.
Our next skewed entry was also a very successful one overall. Dami Im slurped up the jury love (320 points), but televoters merely liked it a lot (191 points). The difference between liked it a lot and loved was enough to keep her in second place overall. But the 23 point difference between Dami and Jamala is tiny, in statistical terms. 1944 earned 10.96 per cent of the maximum possible score; Sound of Silence was on 10. 49 per cent.  Less than half a per cent, in other words.
Next we have two entries with the same skewed support: jury love rather than public love. Ira Losco's Walk on Water earned Malta 132 jury points (fourth with the juries), but a mere 16 public points (and 21st in the televote) lowered her overall to 12th place. Right behind Ira is Hovi Star, whose Made of Stars netted Israel a solid 124 jury votes (and 8th place with juries), though the 11 televote points (22nd)  lowered Hovi to 14th place overall.
Next comes our champion, Ukraine. Whilst having done very well with jurors (211 points), Jamala did exceedingly well (323 points) with televoters. That's a skew of 112 points. Finally, our 10th place entry from Belgium, What's the Pressure was much more appreciated by juries (127 points) than the public (51 points).
OK + OK = Woo hoo!
These skewed scores demonstrate how doing well in one component and badly in the other means a significant tumble in the overall rankings. But what about doing OK in both—how did that bode for 2016 entries?
Most of the top ten overall entries did either very well in at least one component (the skewed ones listed above). With 127 jury and 180 public points, we think Bulgaria's Poli Genova did well with both components (4th overall). That applies also to 5th place Sweden (122 jury, 136 public), 6th place France (148 jury, 109 public), and 7th place Armenia (115 jury, 137 public).
We can even stretch this to 9th place Lithuania: Donny Montell's I've Been Waiting for This Night netted 104 jury and 90 public points, putting him just above that 90 mean point basement for making a Grand Final top 10. Consistency is particularly rewarded under the all things being equal system used in 2016.
Knock your bloc off. And your rock off
With no Scandinavian bloc entries qualified from either semi-final (Estonia, Finland, Norway, Denmark and Iceland all stumbled), most expected Sweden to start with a massive public vote advantage from its friends. And while it was the maximum available, the Nordic bloc members were rather reliable: 12 points each from Denmark and Iceland, 10 points each from Estonia and Finland, though Norway rather stingily gave Frans a mere 7 points! Those 51 points ended up more than 1/3 of Sweden's total televote score. On the jury side, Estonia and Finland gave If I Were Sorry 12s, followed by 6 from Iceland, 4 from Denmark and zero from Norway. Those 34 jury points were almost 1/4 of Frans's total jury score. Helpful towards a top 5 finish, but not disproportionately so.
With only two of seven ex-Yugoslav bloc members (Macedonia, Montenegro, Serbia, Bosnia & Hercegovina, Croatia, Slovenia and Switzerland's persistent diaspora vote) in the Grand Final, we expected either or both of Croatia's and Serbia's entries to get a boost. In terms of televotes, Serb Sanja Vučić ZAA swept the televote 12s from Croatia, Bosnia, Macedonia, Montenegro, Slovenia and Switzerland: a perfect 72 points! Given that she received 80 televote points in total, this very much skewed the overall score for Goodbye (Shelter). Ex-Yugo bloc juries were much less enamoured of the entry, however, providing only 35 of Serbia's total jury score of 115 points.
Croatia was propped up by the ex-Yugo bloc in this year's Grand Final. All 33 total televote points for Lighthouse came from the bloc: 10 from Bosnia, 8 from Slovenia, 6 from Montenegro, 5 from Macedonia, and 4 from Serbia. However, Nina's 40 jury points came from across all juries rather than the ex-Yugoslav bloc of juries.
There were eight seven ex-Soviet bloc members in this year's Grand Final: only Belarus and Moldova failed to qualify. Strictly speaking Lithuania is an ex-Soviet state, but in terms of its ethnic make-up, participation in the Russophone sphere, and engagement with other ex-Soviet republics, it's much more of an outlier (and much more of a Polish diaspora member). That meant Russia, Ukraine, Georgia, Latvia, Armenia and Azerbaijan all appeared in the Saturday night show. Three of these seven entries made the top ten (Ukraine and Russia in the top 3; Armenia in 7th). None finished lower than 20th (Georgia).
Speaking of Georgia…many wondered if juries or televoters would have a clear preference for one of our rock pop-rock entries from Cyprus and Georgia: not really. Georgia's Midnight Gold 's 124 points were mostly from juror's (80 points)  whereas Alter Ego's 96 points were almost equally from jurors (43 points) and the public (53). Georgia was one place ahead of Cyprus, in 20th place. Interestingly, but Georgia's and Cyprus's entries were co-written by the same man, 2012 Eurovision laureate Thomas G:son.
It All Adds Up
Under the previous system, national televoter and jury rankings were combined to create a set of top 10 marks. That system allowed jurors to slate an entry that the public supported: some call this the milkmaid rule. Perhaps this year we should call it the Polish rule, since once again the entry where there was a massive differential between what juries and the public thought was from Poland.
Rightfully, Michał Spzak's massive televote score (222 points and third behind Russia and Ukraine) wasn't flattened by the jurors. Both scores counted equally. If the goal of having both public and (ostensive) professional involvement in assessing the quality of entries, this is precisely how to do it. Every viewer can understand how the scores are calculated *coughexceptSanMarinotelevotingscorecough* without there understanding advanced maths.